Plot Themes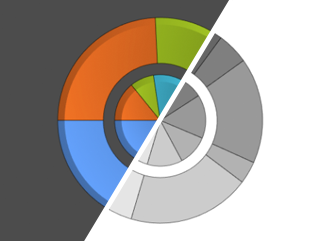 Mathematica Version 10 introduces plot themes to easily tailor plots for specific audiences, from business reports to technical articles. The built-in base themes provide a unified appearance and tone across visualization functions, and are easily tweaked using additional themes and options. Themes can be applied to a specific plot, a localized group of plots, or across the board.
Simply change the appearance for a single plot.
Globally change the appearance for all plots.
Select a theme based on the document stylesheet.
Automatically create a theme from the background color.
Automatically combine multiple themes.
Use themes as a starting point, using regular options to override or modify the theme appearance.
Business and marketing themes for high-impact visualizations.
Detailed and scientific themes for careful interpretation.

Monochrome theme for black-and-white publications.
Unique initial colors for people with color vision deficiencies.
Minimal theme for iconic uses of plots.
Sparkline theme for including plots and charts directly in text.
Axes themes adjust axes, ticks, grid lines, etc.
Font themes adjust font size, type, etc.
Size themes adjust the image size, shape, etc.
Theme auto-completions include sample images for easier selection.