ConceptDraw PROJECT
New Version:
ConceptDraw PROJECT 13
What's New »
A full-featured project management solution with all the necessary functions right at your fingertips. Generates an extensive variety of reports on project and task statuses. Centralizes project information through embedded documents and hyperlinks. Unique Multiproject Dashboard manages multiple projects from a single file. Powerful integration with other ConceptDraw products makes project management easier than ever before.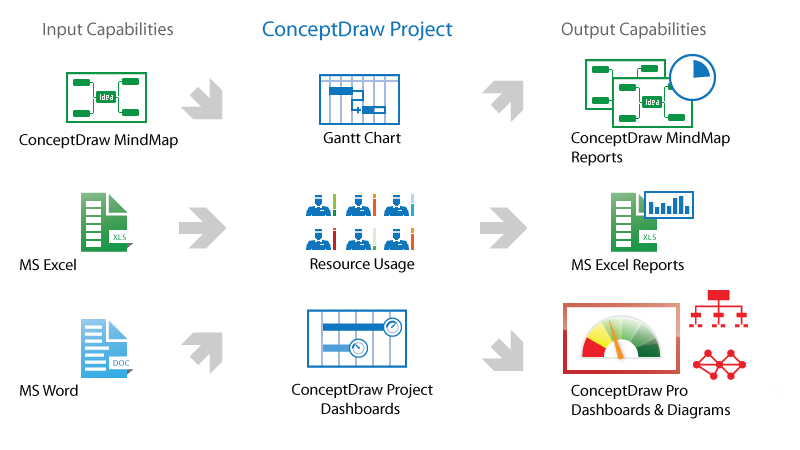 ConceptDraw PROJECT contains an extensive tool set to help project managers. The rich data visualization capability that is provided by ConceptDraw products builds project dashboards, one-click reports, multi-project views, Gantt charts, and resource views. The rich visual data presentation supports important project management tasks such as critical planning and change management.
Visualize Project Data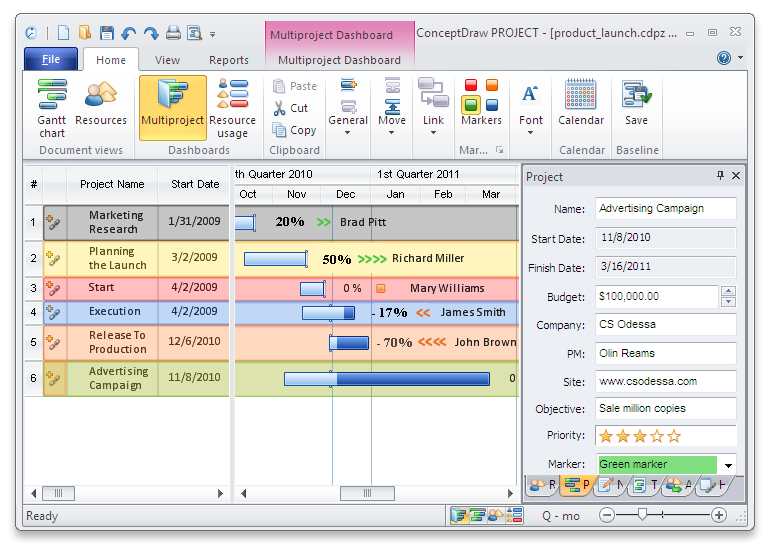 With ConceptDraw PROJECT, you always have current status available through project dashboards, one click reports, and multi-project views and also Gantt charts and resource views. Your teams and stakeholders are always current and you have the information you need to take action quickly.
The Project Dashboard
| Consolidates project data onto one screen | Updates data dynamically | Represents data visually | Helps you take the right action |
| --- | --- | --- | --- |
| See all of your key performance indicators on one screen | Monitor status based on the most current project data | Understand your current status from the dashboard, recognize changes to project status as it occurs, and see when critical performance limits are exceeded | Instantly recognize what action you need to take now |

ConceptDraw PROJECT enables you to generate reports with one click. You do not need to configure settings, walk through dialogs, or click through wizards. Sharing reports is simple because you can output them to HTML, Microsoft Excel, Microsoft Project, or RTF. By integrating with ConceptDraw Office and ConceptDraw Solution Park add-ons, you can extend your reporting capability with numerous resource, schedule, and task reports.
Because your project data is accessible through traditional formats such as Gantt charts and resource views, you can engage in in-depth planning and analysis. Expand your diagramming and chart functionality through ConceptDraw Solution Park add-ons and integration with ConceptDraw Office.
What Is It
Plan Projects and Manage Change
ConceptDraw PROJECT provides all the tools necessary to plan and manage projects. You can create tasks, assign resources, and load resource costs. By creating a subproject, you can analyze the impact of a change request before approving the change to the project baseline.
Track Project Documentation and Knowledge
ConceptDraw PROJECT allows you to track the completeness of your project documentation by tracing tasks back to requirements documents or identifying tasks that have no documentation. Team members know where to get the highest priority and current specifications so they are able to learn more about their current tasks. Project managers are assured of project quality because their teams are using the proper documents. Portfolio managers and executives know if documents are missing so they can be proactive in resolving.
The Project Knowledge Dashboard in ConceptDraw PROJECT enables you to manage status and the quality of project input.
ConceptDraw PROJECT Supported by ConceptDraw Office
When you use ConceptDraw PROJECT with ConceptDraw Office, you benefit from more dashboards that display key performance indicators for your project methodology. With ConceptDraw MINDMAP you can: leverage brainstorming, presentation, and reporting functionality. Project used in conjunction with ConceptDraw PRO one is able to generate charts, network diagrams, work breakdown structures, and other diagrams.
ConceptDraw PROJECT Supported by ConceptDraw Solution Park
CS Odessa ConceptDraw Solution Park offers a variety of project management add-ons that you can download to ConceptDraw PROJECT and ConceptDraw Office.
Tool Box Solutions offer an array of enhanced functionality to support project managers, such as planning, team management, and project documentation management. These add-ons will support any project management methodology.
Methodology solutions support specific methodologies, such as Agile project management. A separate methodology solution for neutral project management is also available.
Benefits
Reporting for Planning
Planning becomes more effective because of reports. Resource assignment and usage, task scheduling, milestones and project events, cost of resources, and budget are some of the reports that assist the planning process. The planning of each project has its own unique challenges. ConceptDraw PROJECT includes many reports to give you the flexibility you require in the planning process.
Reporting for Changes
Generating effective reports is critical to managing change. One set lets you understand the change, the other lets you adapt to the situation. Because milestones are always impacted by changes they must be constantly reviewed. Excellent support for this reviewing process is available in the following reports: Milestone, Phase tracking, Critical task tracking, Multi-project resource usage, and many completion metrics reports.
In ConceptDraw PROJECT many reports reflect the high-level impact on your project and let you adapt to the situation.
Reporting for Meetings
Meetings that effectively communicate lead to project success and its strong visual reports are important to communicate quickly to participants. ConceptDraw PROJECT provides visual clarity of reports by using mind maps viewed in ConceptDraw MINDMAP. Clarity is provided by reviewing the project dashboards before any meeting. Dashboards display key performance indicators of single or multiple projects. Meeting communication is effective because of the visual aids — mind maps and dashboards.
Strength
Overview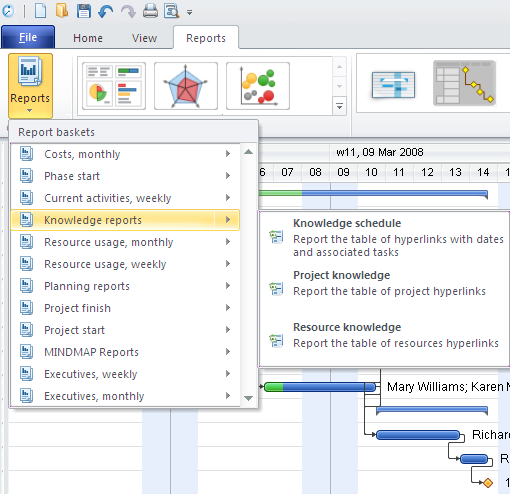 The Project Knowledge Dashboard gives an instant accounting of how your project tasks trace back to requirements documents. As a result, you know the current status of work completed for the project budget and you can analyze the quality of the project input.
The Project Knowledge Dashboard communicates the percentage of tasks that trace back to requirements documents, the number of tasks that trace back to each requirements document, and the name and location of each requirements document.
The integration of ConceptDraw PROJECT with ConceptDraw Office helps improve project management by leveraging the power of mind mapping and data visualization.
ConceptDraw Solution Park also provides you with numerous project management-related add-ons.
Why does the Project Knowledge Dashboard Matter?
The simple metrics in the Project Knowledge Dashboard impacts every project stakeholder, because it relates to gaps that can occur in a project in knowledge acumination. It demonstrates importance of documentation, specification readiness, completeness of documentation, and potential success metrics.
Individual Contributors
The Project Knowledge Dashboard makes it possible for individual contributors to know the specifications for assigned tasks, locate requirements documents through hyperlinks, work from the latest document version, and identify which documents critically impact their current work. The Project Knowledge Dashboard makes it easy to recognize changes and remain productive.
Project Managers
The Project Knowledge Dashboard makes it possible for project managers to access specifications while creating status reports, assigning resources, resolving technical issues, and managing variances from the project plan. As a result, project risk is low because everyone is working from the same specifications. During planning, project managers can also quickly determine if any requirements documents are missing.
Program and Senior Managers
The Project Knowledge Dashboard makes it possible for program and senior managers to instantly determine whether a project has sufficient documentation to succeed, identify which portions of projects require more documentation, and recognize project risks because of incomplete documentation. The Project Knowledge Dashboard makes it possible for these stakeholders to manage portfolios quickly and precisely.
All Stakeholders
Combined with the project status dashboards, the Project Knowledge Dashboard provides all stakeholders with a quick overview of how the project is progressing.
What Are the Strengths of the Integration of ConceptDraw PROJECT with ConceptDraw Office?
ConceptDraw Office integrates ConceptDraw PROJECT with ConceptDraw MINDMAP and ConceptDraw PRO into a compelling project management suite. By leveraging the mind mapping functionality of ConceptDraw MINDMAP and the diagramming tools of ConceptDraw PRO, you can now visually communicate and manage project data and project documents.
The ConceptDraw MINDMAP integration with ConceptDraw PROJECT enables you to: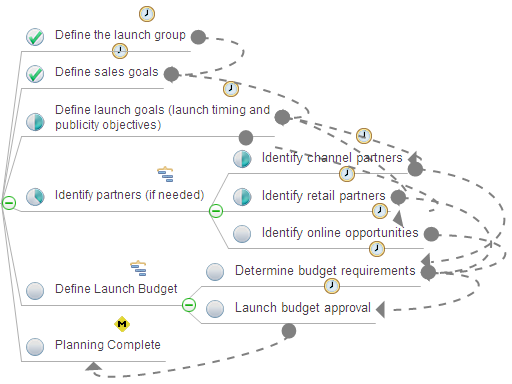 Leverage the input, output, and presentation functionality of ConceptDraw MINDMAP
Use brainstorming to easily define requirements and generate action plans
Display and manage task data in both ConceptDraw MINDMAP and ConceptDraw PROJECT
Generate visual reports in formats you can easily share with teams
Create appropriate presentations for specific stakeholders
Lead effective team meetings
The ConceptDraw PRO integration with ConceptDraw PROJECT enables you to:
Display project metrics in visual form
Create Work Breakdown Structures that integrate with ConceptDraw PROJECT
Produce network diagrams
ConceptDraw Solution Park Support for Project Management
ConceptDraw Solution Park improves your project management activity with Tool Box Solutions and Methodology Solutions. Tool Box Solutions enhance your daily project management activities regardless of your project methodology. Methodology Solutions help with your specific project management practices.
The following Tool Box Solutions are available:
PM Response — Plan how to respond to issues and events that impact the project
PM Teams — Prepare org charts, roles and responsibility matrices, team directories, and calendars
PM Docs — Organize and create project documentation
PM Presentations — Deliver presentations that use all project data, including dashboards, Gantt charts, resource views, reports, and diagrams
PM Meetings — Prepare project meetings quickly, keep meetings on track, organize team brainstorming, record brainstorming results, and provide meeting results output
PM Planning — Extend your planning and reporting capability, prepare a wide range of project reports, and improve project communications
PM Dashboards — Extend the number of dashboards
Personal Time Management — Improve personal performance
Methodology Solutions include:
PM Agile — Supports Agile methods including user stories, iteration planning, burndown charts, backlogs, and velocity
PM Made Easy — Supports neutral methodology project management
ConceptDraw PROJECT provides the tools you need to deliver superior project results because of its core project management functionality, dashboards, integration with ConceptDraw Office, and the project management ConceptDraw Solution Park add-ons.