There is no translation available.
Minitab Workspace™ Lösung - Design For Six Sigma
Einsatz von DFSS für die effiziente Vermarktung neuer Produkte und Prozesse sowie Sicherstellung einer erfolgreichen Entwicklung - von der Definition der Anforderungen bis zum finalen Qualifikationstest - mit dem integrierten DFSS Toolkit von Minitab Workspace.
Roadmap: Concept-Design-Optimize-Verify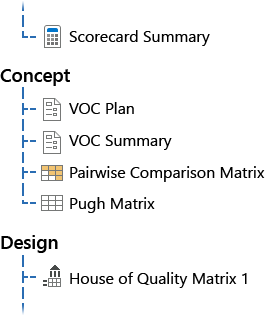 Anwender können anhand einer bewährten CDOV Roadmap Schritt für Schritt ihr Projekt durchlaufen oder ihre eigene Roadmap erstellen, um die DFSS-Methode ihres Unternehmens widerzuspiegeln. Die Werkzeuge sind logisch mit den Phasen des Entwicklungsprozesses verknüpft, so dass die Arbeit beschleunigt wird und Projekte einfacher zu organisieren, zu teilen und zu replizieren sind.
Quality Function Deployment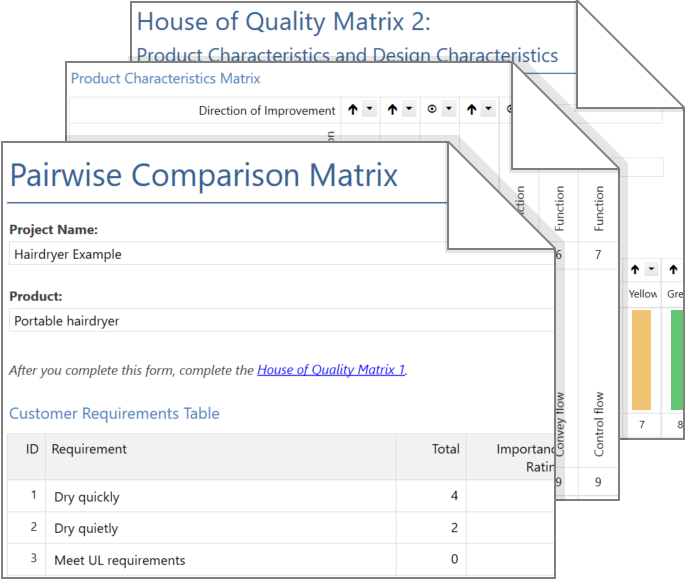 Informationen werden automatisch von den Anforderungslisten der Funktionen Pairwise Comparison Matrix, Houses of Quality und Design Scorecards gemeinsam genutzt und stellen auf diese Weise einen reibungslosen Flowdown der Anforderungen sicher.
Matrix für paarweise Vergleiche (Pairwise Comparison Matrix)
Houses of Quality (1, 2 und 3)
Konstruktions-Scorecards (Design Scorecards)
Monte-Carlo-Simulation
Mit der Monte-Carlo-Simulation wird ein Produkt oder ein Prozess beschrieben, verstanden und optimiert.
Zusätzliche DFSS Tools (Auswahl)
Pugh Matrix
hierarchische und funktionale Dekompositionsdiagramme mit Prozessabbildungen und CT Trees erzeugen
DOE-Planung (DOE planning)