There is no translation available.
Pairwise Comparison Matrix in Minitab Engage
Bevor die Arbeit innerhalb des Houses of Quality beginnt, werden mit Hilfe der Pairwise Comparison Matrix die einzelnen Kundenanforderungen (VoC) gegenübergestellt und so priorisiert. Die Anforderungen der Kunden werden dabei als erstes in einer Liste gesammelt, aus deren Informationen sich automatisch die Pairwise Comparison Matrix speist. Je zwei Kundenanforderungen werden dann gegenübergestellt und das wichtigere aus beiden Anforderungen ausgewählt, bis alle Kombinationen definiert sind. Aus der Anzahl an direkten Priorisierungen, die jede Anforderung verzeichnen konnte, wird ein entsprechendes Importance Ranking erzeugt. Dieses kann optional durch manuelle Eingabe eines Faktors noch angehoben oder abgesenkt werden. Für eine übersichtliche Darstellung wird das Ergebnis mittels Pareto-Diagramm dargestellt.
Für jede dieser Anforderungen kann nun entschieden werden, ob es sich um eine kritische Anforderung handelt oder nicht. Die als kritisch ausgewählten Anforderungen werden automatisiert in das erste House of Quality übertragen.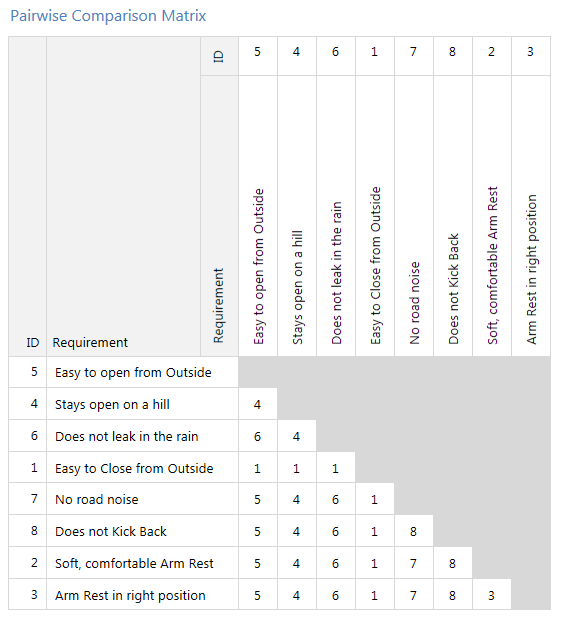 Paarweiser Vergleich: Jede Kundenanforderung wird mit allen anderen verglichen. Im direkten Vergleich zweier Anforderungen wird die mit der größeren Wichtigkeit gewählt.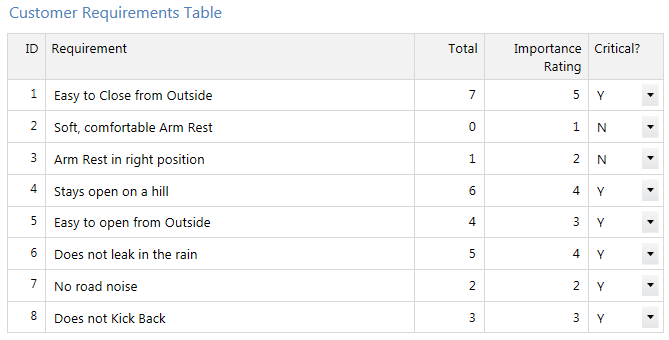 Tabellarische Übersicht der priorisierten Kundenanforderungen mit der Anzahl an Siegen ("Total"), dem daraus resultierenden Importance Rating und der Entscheidung, ob es sich um eine kritische Anforderung handelt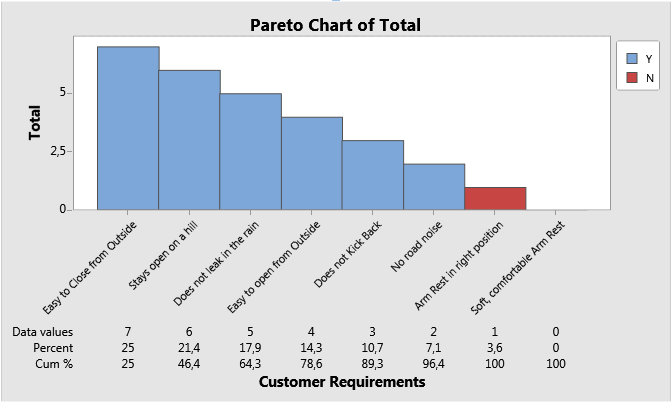 Grafische Übersicht der priorisierten Kundenanforderungen mittels Pareto-Diagramm