There is no translation available.
Versionshistorie von ReaxFF: 2018 - 2012
Im Folgenden sehen Sie einen Überblick über die neuen Schlüsselfunktionen der jeweiligen Version.
ReaxFF 2018
Neu in ReaxFF 2018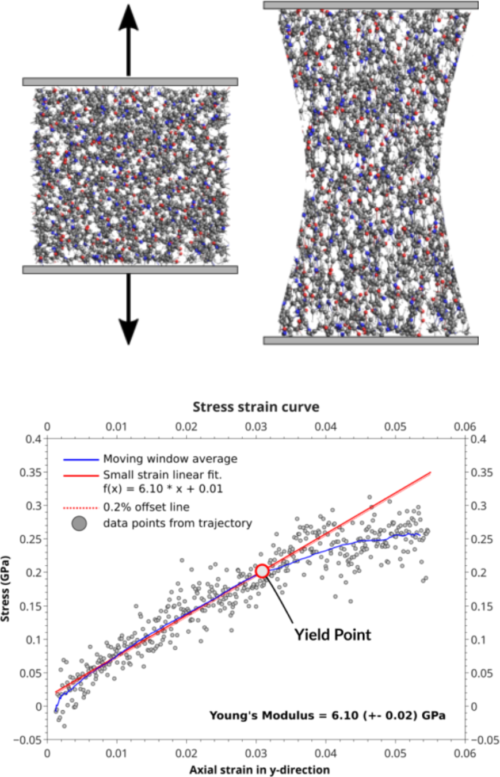 Stress Stain
ReaxFF has been included in the AMS driver as one of the engines, which means that all tasks that can be performed with the AMS driver are also available for ReaxFF. However, not all tasks available in the classic ReaxFF standalone program have already been ported to AMS, so in the 2018 release of the Amsterdam Modeling Suite, the standalone ReaxFF program and the ReaxFF engine coexist. This manual mostly describes the standalone ReaxFF program. For documentation on how to use ReaxFF in AMS, see the special page on ReaxFF as an AMS engine as well as the AMS driver manual.
Besides the addition of ReaxFF as an AMS engine, the standalone ReaxFF 2018 program has been extended with the following features:
ReaxxFF 2017
Neu in ReaxFF 2017
In comparison to ADF-ReaxFF 2016, the 2017 release offers the following new functionality:
Nose-Hoover chains thermostat
Anderson barostat with a Nose-Hoover chains thermostat (isotrpic, anisotropic and full cell fluctuation)
e-Reax - dynamics with explicit electrons
Extendable FF Optimizer framework
Vibrational frequency analysis
Quasi-Newton geometry optimization
Improved molecule gun
ReaxxFF 2016
Neu in ReaxFF 2016
Chemtrayzer: Chemical Trajectory Analyzer 
Automated discovery of reaction pathways, rate constants, and reaction networks using Chemtrayzer (M. Döntgen et al.)
New force fields 
See the manual for the list of available force fields.
ACKS2 
Support for the ACKS2 charge equilibration method (given a suitable force-field)
Performance improvements for very narrow and long unit cells.
Scripting
ReaxxFF 2014
Neu in ReaxFF 2014
Changes in the dihedral angle and conjugation terms
To solve a discontinuity problem at small bond orders for torsion angle and conjugation contributions the formula for f(BO). These terms correspond to expressions for f_10 (eq. 10b) and f_12 (eq. 11b) in the "ReaxFF: A Reactive Force Field for Hydrocarbons", J. Phys. Chem. A 2001, 105, 9396-9409 paper. The new expression for each term in f_10 is now [1 - exp(-2 * lambda_23 * BO**2)] and in f_12 it is now sin(BO*pi/3)**4. The new expressions ensure correct asymptotic behavior for the dE/dBO for BO?0
Grand cononical Monte-Carlo (GCMC)
The GCMC as describe in two papers by Senftle et al. has been included as a tool with ReaxFF.
Monte-Carlo force-field parameter optimization
An easy to use parallel optimization method for force-field parameters has been added. The method is based on the paper by Eldhose Iype et al.
ReaxxFF 2013
Neu in ReaxFF 2013
ReaxFF can now treat an unlimited number of atoms
parallel scaling is greatly improved using spatial distribution
automatic calculation scale-up by repeating unit cell in a, b, and/or c direction
force-bias Monte-Carlo implemented for accelerated dynamics
force field-dependent Reaxff-lg dispersion correction