ChemDraw® Professional and Prime
ChemDraw is the drawing tool of choice for chemists to create publication-ready, scientifically intelligent drawings for use in ELNs, databases and publications and for querying chemical databases. ChemDraw provides chemists with a rich set of easy to use tools for creating publication ready, scientifically meaningful drawings of molecules and reactions and for generating associated properties, systematic names and spectra.
ChemDraw is available as ChemDraw® Professional and Prime.
ChemDraw® Prime
ChemDraw Prime is the complete entry-level drawing program that provides all the tools you need to quickly create chemically intelligent, publication-ready chemical structures and reactions, laboratory notes and experiment write-ups. As well as a full set of chemical structure essentials such as rings, bonds, chains, atoms and functional groups, ChemDraw Prime includes chemical and lab equipment templates and handy TLC and Gel Electrophoresis Plate drawing tools.
ChemDraw Prime includes the following features:
Analyze and check structures
Structure clean-up
Expand and contract labels
Create and use nicknames
Tetrahedral and geometric stereochemistry, including absolute and relative
Multicenter attachment points for haptic and other pi bonds
Chemical polymer tools
Calculate properties including pKa, LogP, LogS and tPSA and hotlink to structure
Read and write all common chemical and graphics files
Read JCamp and Galactic spectra files
Fragmentation tools
Special "copy/paste as" command for CDX, CDXML, molfile, SMILES, InChI and InChIKey (copy only)
In-place OLE editing of ChemDraw objects
ChemDraw ActiveX Plugin
ChemDraw® Professional
ChemDraw Professional takes chemical drawing to the next level, with all the features in ChemDraw Prime plus: access to ChemDraw Cloud, biopolymer tools, BioDraw, NMR prediction, advanced Name to Structure, enhanced retrosynthesis tool, and even integration with chemical databases like including SciFinder®. ChemDraw Professional also enables structure data exploration supports organization and processing with ChemDraw for Excel, ChemFinder Standard, ChemScript and ChemDraw 3D Ultra.
A single drawing solution that both chemists and biologists can trust to accurately handle and represent organic, organometallic and polymeric and biopolymer materials (including amino acids, peptides and DNA and RNA sequences) and to deal with advanced forms of stereochemistry.
Chemists can use ChemDraw Professional to draw and submit chemical compound and reaction searches direct to SciFinder, with no more time-consuming cutting and pasting.
Scientists can quickly, effectively and accurately communicate research and ideas using an extensive set of biological templates and drawing objects to create compelling illustrations of cells and pathways, including live chemical objects as needed.
Scientists save time and increase data accuracy by using ChemDraw Professional to predict properties, generate spectra, construct correct IUPAC names, and calculate reaction stoichiometry.
Find compounds (structures) of interest more quickly and accurately no matter the type of chemistry/type of structure. Better results from searches and less time spent searching creates more time for science.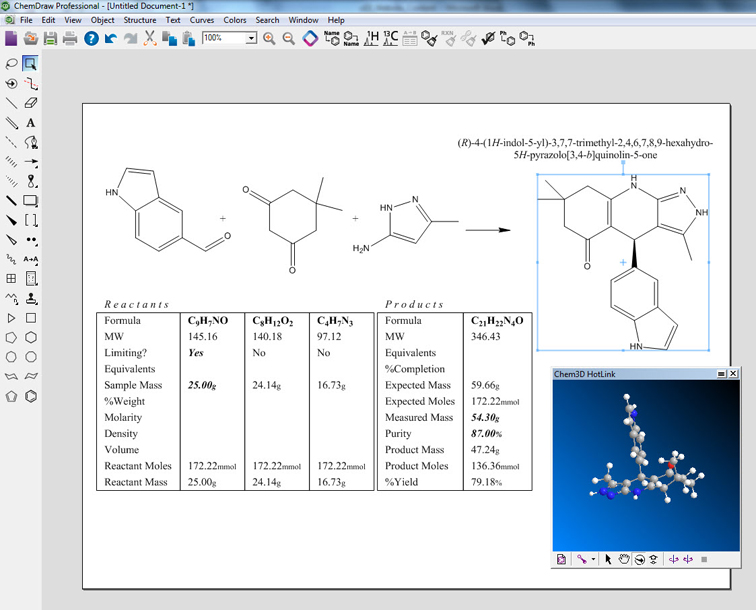 The reaction stoichiometry grid is complemented with IUPAC name generation. When deployed with ChemOffice Professional, ChemDraw allows for an in app 3D viewer through a Chem3D Hotlink window.