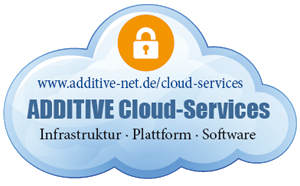 ADDITIVE Cloud Services
Configure Your Own Cloud for Yourself and Your Customer!
With ADDITIVE Cloud Services, ADDITIVE offers you a simple option to enhance your own products and applications by cloud technology.
For this, ADDITIVE's service is to provide your company with a ready-to-use package including everything you need to extend your own product portfolio by Cloud Computing features. ADDITIVE Cloud Services are scalable and easily adjustable to your needs.
As a customer of ADDITIVE Cloud Services you obtain all turnkey technological components for the operation of your personal cloud solution. This includes the virtualization of server systems, the implementation of customized software as well as the ready-for-use supply of secure data communication and storage. After setting up the cloud solution, ADDITIVE runs the cloud system on behalf of the customer.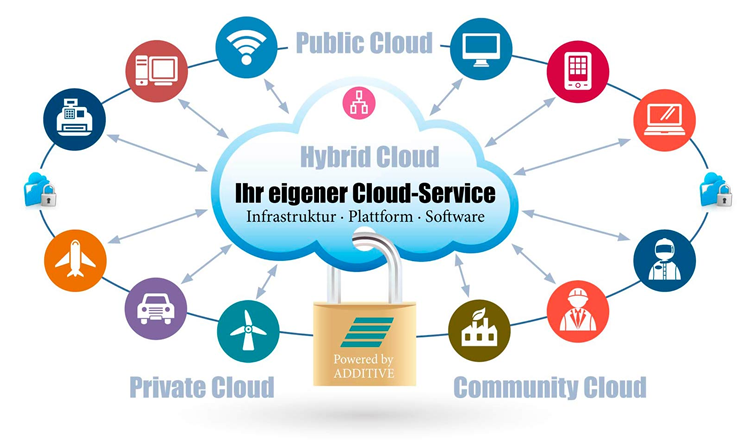 Installation and operation of the customer-specified cloud includes:
Selection of hardware systems and installation of your own Cloud Services
Virtualization of your server systems
Installation and configuration of application software
Monitoring of system processes & performance analysis
Backup of your system as well as user data
Technical support for customers and users
Supply of billing data
Scaling of your system according to parameters for performance and growth
Additionally, you can includeour field-proven ADDITIVE Webservice Platform in order to add further functions to your product portfolio, creating, for example, your Measurement Technology Cloud or Quality Cloud.
ADDITIVE WebService Platform
The ADDITIVE WebService Platform is a framework of software tools used to analyze, capture, evaluate, and report technical and scientific data.
It distinguishes itself by defined protocols for data access and flexible data models for storing data. Moreover, powerful graphics libraries and a flexibly configurable import method are provided.
The ADDITIVE WebService Platform uses exclusively standard technologies and can therefore be integrated into your existing IT environment with minimum effort.