ADME DB
ADME DB is a database containing the latest and most comprehensive data on interactions of substances with Drug Metabolizing Enzymes and Drug Transporters. It is designed for use in drug research and development, including drug-drug interactions and ADME (Absorption, Distribution, Metabolism and Excretion) studies. The information is organized by category (therapeutic area), drug name, enzyme, reaction, and type. ADME DB is supported by chemical/metabolite structures as well as kinetic values found in the literature. The database is available online and completely searchable by keywords or chemical structures. Advanced searches are also available to support investigational studies on drug-drug interactions. The contents of the database were collected and organized in accordance with the original Human CYP and Transporter Metabolism Database as developed by Professor Slobodan Rendic (Zagreb, Croatia).
ADME DB
Contains more than 25.500 substances, a number of natural products and preparations, as well as other factors influencing Drug Metabolizing Enzymes activity.
Contains data collected from more than 10 300 citations.
If you have further questions, need a trial version or an offer, contact us via Diese E-Mail-Adresse ist vor Spambots geschützt! Zur Anzeige muss JavaScript eingeschaltet sein! or by phone +49 (0) 61 72 - 59 05 - 131.
Datenbankstruktur
Datenbankstruktur
ADMEDB contains information on CYP and other Phase I and Phase II enzymes and a number of variants, which significantly contribute/are tested in the metabolism of xenobiotics (drugs and other chemicals) and endobiotics in humans in vitro and in vivo.
ADMEBD contains three sub-databases:
Drug Metabolizing Enzymes Database
Kinetic Metabolism Database
Transporters Database
Detailed information for each entry includes the following data items:
Protein information about either enzyme/transporter.
Metabolic reaction.
Interaction type (substrate, inhibitor, inducer, activator).
Drug/Metabolite structure.
References linked to PUBMED.
Kinetic information: Km (µM), Vmax (1/min), Ki (µM), Ks (µM), Efficiency (ml/min/nmol), Kinactivation (1/min), Cooperativity, IC50 (µM)), EC50 (µM), thalf (min) and in vitro assay model used to determine the kinetic parameters.
Human Drug Metabolizing Enzymes Database
Provides information on specific interactions for a given substance with Human Phase I Enzymes such as P450 (CYP), FMO, AKR, MAO and AO; Human Phase II Enzymes such as Esterases, UGT, GST, and SULT.
Contains over 33.000 entries.
Contains more than 15.700 substances, a number of natural products and preparations, as well as other factors influencing Drug Metabolizing Enzymes activity.
Contains data collected from more than 6.200 citations.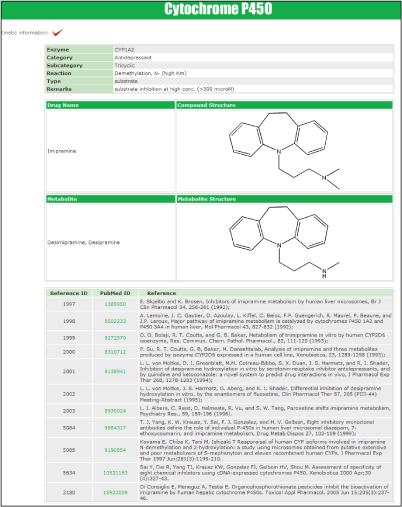 Kinetic Metabolism Database
Database contains over 26 000 entries extracted from Human Cytochrome P450 metabolism database references providing numerical data on major kinetic parameters relevant for use in drug developing/application studies.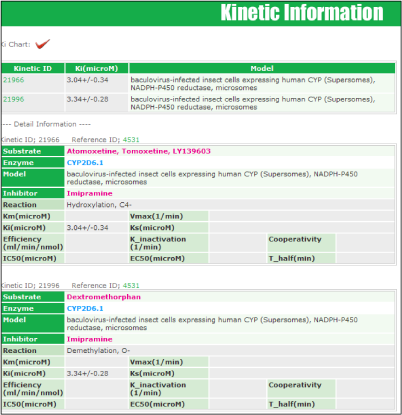 Transportesr Database
Provides information on more than 250 Transporters (including ABCs, OATPs, OCTs, OATs, SLCs) involved in drugs transport, physiological compounds, nutrients, and other chemicals and metabolites.
Contains over 21 000 entries.
Einsatzbereiche
Einsatzbereiche
Evaluierung und Vohersage über Neben- und Wechselwirkungen von bekannten und neuen Wirkstoffen, Chemikalien und physiologischen Faktoren.
Rechnergestützte Wirkstoffentwicklung Auswahl relevanter Substrate bzw. Inhibitoren für in vivo bzw. in vitro Experimente.
Untersuchung der Eigenschaften natürlicher oder mutierter Enzyme (CYP) aufgrund ausgewählter Metabolismusvorgänge.
Vorteile
Vorteile
Reduce the costs
Since the service is available online, it is accessible anywhere via a web browser. As a result, there is no need to pay for expensive initial cost associated with package software.

Instant access
Upon subscription and receiving a user ID and a password, users are able to login to the system on a 24×7 operating basis throughout the entire year (excluding system maintenance periods).

No maintenance/management fees
There is no need to setup a dedicated server within the company. This eliminates the need for maintenance, management, regular data backups, and updates.
High security
With Fujitsu's high security measures being implemented, there is no need to worry about data loss and information leaks.
ID=4774